I'm so thrilled to do the first post on our new blog :) Wondering if anyone in this great big bloggy world besides Michelle will ever read this...
So I did a search for the phrase "tips for winning blog giveaways." Several posts/sites came up. I'm copy-pasting the tips I found on here. Some were pretty obvious (like DUH! obvious) and others made my eyes light up (BRILLIANT)!
Here they are:
-Read all the rules carefully.
-Make sure you leave a valid email address with every entry you submit. If you don't they cannot contact you if you win.
-Take advantage of any extra entries they have to offer. For this step you may need to make an account at various social networking sites. It may seem like a hassle now but it will benefit you in the end.
-Follow the mandatory entry.
-Check your email. This includes your spam box. You usually have only a day or two to respond, so make it a habit to check every night before you go to bed.
-Do the extra entries. I agree with this one, with a huge disclaimer - I won't waste my time doing an extra entry that is very complicated. I'd rather only do quickquickquick entries and move on, then spend forever trying to increase my odds.
-Don't state you did something if you didn't do it. Number one - that's lying. You'll get bad karma and stop winning. And number two - it's a waste of time, because most giveaway hosts probably validate entries.
-Enter all the giveaways you can on each blog you follow. Many offer extra entries for entering their other giveaways.
-Sign up for an email address just for entering giveaways. I don't personally do this, because I don't mind more emails coming to my regular box. I think it's more work for me to go sign in to various email addresses. Gmail folders and labels take care of organizing.
-Always check your Junk or Spam mail folder every few days to make sure nothing has gotten lost there.
-Spell check your entry - especially your email address! Gotta have a way to be contacted!
- Create a blog of your own for posting about giveaways. Some blog giveaways will give you extra entries if you post about their giveaway and link to them in your own blog.
-Don't be the first person to respond to the giveaway.
The reason:
Many blog hosts will use Random.org to pick their winner.
Random.org often picks a higher number. I run blog giveaways from time to time and use Random.org and I find that it rarely picks numbers 1-10. However, sometimes it does but most of the time I found that the numbers were much higher. I have never seen it pick #1. [Note from Chelsea - I don't understand this or agree with it. If Random.org is truly choosing a random number, 1 has an equal chance of being chosen as 27 or 99 or 5,235. Right?!]
-
Space out your entries. Do one and then wait until there are some other entries before you do the second one. [Again, this tip doesn't make any sense. Every entry has an equal chance of being chosen.]
-Include your email with each entry.
-
If you receive multiple entries for an action, be sure to leave multiple comments.
-
Sign up for social media accounts that are frequently used in blog giveaways.
You will want a free account with Twitter, Facebook, and StumbleUpon to start. [Note to self - I need to create an extra Facebook account for entering giveaways!]
-Schedule Daily Tweet Entries to be sent automatically. Use a program called Social Oomph [Never heard of this! Need to investigate! Sounds brilliant!]
Schedule tweet entries to go out between 5 and 6 in the morning. Then when you wake up, easily open list of sent tweets on twitter and go down the list. (It's the Your Tweets link at the top right of your Twitter homepage.).
Since your tweet about the giveaway should include a link to the giveaway, it makes it easy to enter each one directly from twitter. For each tweet sent out, open the giveaway link from the tweet and then leave a comment with the tweet link on the giveaway post. It takes all of 5 minutes each morning and ensures the maximum number of entries in each giveaway.
-
Use Software to Speed Up Your Entry Time, So You Can Enter More Giveaways.
Entering blog giveaways can be time-consuming. There are a couple of great pieces of
software
to help speed things up. The faster I enter, the more giveaways I can enter. The more giveaways I enter, the better my odds are of winning.
Texter -
This software creates keyboard shortcuts. When I am entering blog giveaways, I use it for entry comments that I find myself using all the time. For example, whenever I type in "~2", Texter automatically replaces it with "I follow you on twitter as Greatgiveaways." It saves me so much time typing. I have about 30 keyboard shortcuts that I use frequently. The best part - it's free to download and use! [Note from Chelsea: Need to check this out! Sounds promising!]
Roboform-
This software fills forms with a simple mouse click. It saves all your login and passwords. I use Roboform for many purposes, but it comes in handy for entering blog giveaways that use forms. It is also useful for daily entries. Click here to download
a free trial of Roboform
. (You are limited on the number of passcards you can save, but it is fully functional and quite useful for entering blog giveaways.) No more manually typing in your name, address, or email address on Wordpress Giveaways. Think of all the time it could save you! [Note from Chelsea: Again, need to check this out! Sounds promising!]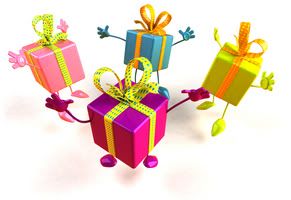 Improve Your Odds By Seeking Out Giveaways With Low Entries

Enter giveaways the day before they end and look for ones that have less than 250 total entries. [Why would I want to enter the day before they end? Doesn't make any sense! Sounds like superstitious behavior.]

Do a

Google blog search

for the phrase "first giveaway". Bloggers holding their first giveaways typically don't do as much

advertising. So they will have way fewer entrants. [GREAT idea!]
Attend Twitter parties. These last for about an hour or so and typically quite a few prizes are given away. A lot fewer people enter because of the time commitment so your odds are better of winning. [Probably a good idea. Not sure if I'd ever get into this].
Enter for smaller prizes. Bigger prizes tend to get 1000 entries or more. Go for the prizes that are $10 to $20 in value and your odds are better. Keep an eye out for $5 Amazon gift certificates giveaways. This is a popular
prize
for bloggers hosting their first giveaway and less people enter because of the small value. However, since the gift certificates stay in your account and add up, I find it worthwhile to enter. [Agreed!]
Enter giveaways where you have to check back to see if you won. Most people can't be bothered to do this and won't enter. So entries for these types of giveaways are typically low. Just make sure you make note of when you need to check back. [Ugh. Really?! I have having to check back! I never remember!]
SayandWin
is a free service you can use to post to both Facebook and Twitter. By using this service when sending tweets and posting to Facebook as part of your giveaway entries, you have the chance to instantly win Amazon gift certificates. The prize is usually a $1 or $5 gift certificate, but I have won many times. So not only do you get your entry in the blog giveaway, but you can also instantly win Amazon gift certificates. So you have twice the chances to win a prize with that one action. [I want to check this out! With my giveaway-only FB account of course.]
-
Focus on the Prizes You Really Want to Win.
Since blog giveaways are more time-consuming, it is a good idea to focus on the prizes you really want. Keep a list by your computer of all the prizes that would make good gifts or you really want. Enter those giveaways first. Chances are the same prize will be given out on several sites so enter for as many as you can find to improve your odds of winning.
-To take advantage of daily tweets, I also have Daily Tweet document. There I list the giveaway, end date, link, tweet and my tweet info. This way I can easily tweet it out every day, and leave a comment with the tweet link on the post. I usually have about 5 - 10 giveaway tweets that I tweet out every day to get extra entries.
There is a very simple reason why most bloggers have lots of bonus entries. It is because of giveaway entries that bloggers are able to host giveaways! To provide readers with great giveaways, bloggers have to give an incentive to potential sponsoring companies. If the companies know that they can get more twitter and facebook followers, more people to sign up for their newsletters and of course visit their websites, they are more likely to offer you (the giveaway winner) a great giveaway prize. [Note from Chelsea: Ok, I guess that makes sense. Except having SO many entry bonuses is annoying!]
-Be excited about your giveaway wins, but don't count your chickens before the eggs have hatched. If you encounter a problem, make sure to go to the giveaway host, so that he or she can get the problem resolved. Do not start leaving comments on the blog (or elsewhere) about how you have not received your prize etc. - go to the source. Most giveaway prizes are shipped from the companies directly to the winners, so things can go wrong, but dealing with the companies is a part of the bloggers job.
-If there's a particular prize you really wanna win, most of the time several blogs are offering the same prize at the same time so a quick twitter search for the company name (or their FB page) will bring up several hits.
-Have a word document with your information for easy copy and paste.
I tweeted about your giveaway today!
@Chelseabrianbri
chelseamckell[at]gmail[.]com
Tweet Link:
I am a follower of your blog!
chelseamckell[at]gmail[.]com
I follow you on Facebook!
chelseamckell[at]gmail[.]com
I blogged about your giveaway!
chelseamckell[at]gmail[.]com Blog post link:
I follow you on Twitter!
chelseamckell[at]gmail[.]com @Chelseabrianbri

Happy Winning! :)